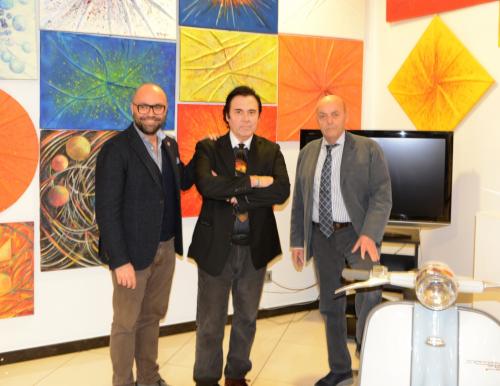 Twenty-five informal and abstract works by Massimo Paracchini are presented by the Auction House Meeting Art located in Vercelli, 11 Adda Street. The works are already visible from 19 December in the hall of the Auction House. The title of the personal exhibition of the artist is "Free Sprinkling R-Evolution" and will last until January 6, the day on which the artist will be interviewed and will comment on every work presented. You can follow the interview on the following tv channels: SKY 825; DVBT People Tv - Rete 7, Videonord, Teleritmo, 175 Arte, TLC 75, Videonovara, Canale 227.
Comment of the works.
I see colors in Free Sprinkling Overflowing and Sparkling on each picture pulsating with life. I cross the world to capture all the images, the colours, the vibrations of the soul and I turn them into poetry.
Free Sprinkling Overflowing and Sparkling is the pure expression of the natural instinct of the artist who knows how to turn every image, every sensation, every emotion in pure artistic vision.
Free Sprinkling Overflowing and Sparkling is the most magical and free perfusion of colour on the image represented, which goes beyond everyday life and ordinary reality to become absolute vision because expertly dematerialized and transfigured by the artist.
The magical Free Sprinkling Overflowing and Sparkling is poetry, freedom and beauty.
Free Sprinkling Overflowing and Sparkling is the true revolution, the pure expression of the artist's natural instinct, of his soul and his body, of his mind and his heart.
Through Free Sprinkling Overflowing and Sparkling I turned every too precise picture of reality into artistic vision. By doing this, I found that chromatic harmony and primal magic which disrupts every subject and every human calculation!
From the hyper-dimensional, hyper-elliptical, curvilinear movements of the trans-geometry of deep universes the new dynamic form, abstract, Cosmic, eternal form will be generated in a new and pure transcendental and Eidetic vision.
From a central point the color expands to infinity in straight or curved direction using a rotating motion, which creates a true Kromoexplosion that overwhelms and transfigures everything as in a real artistic Big Bang that will give rise to one of the many possible universes, through a real Kromoenergy that will atomize togive shape to a new vision.
Centripetal and centrifugal forces are two fundamental opposing forces that generate the continuous movement and dynamism of the whole universe.
Deflagrations in alchemical Kromoexplosion that arise from the deep abysses of the artist-creator's soul and mind in Kromotrance and that spread everywhere with infinite chromatic energy, overwhelming every known form, disrupting and dematerializing it in order to project it again towards another primordial Kaos in the fluent, vibrant, over-dimensional dawn of artistic re-Genesis.
Kromoexplosion, pure cosmic energy, flow Vortex from which everything originated through a twisting motion that comes from a dynamic twist starting from a central point, when from the Kaos of Free Sprinkling Overflowing and Sparkling will rise to a new and abstract shape, curved in an ever evolving movements.
Embossed Kromoesplosion, like sparkling Fireworks or like a thousand suns that expand to infinity, when the artist in Kromotrance, with the gesture of that magical and totally free color perfusion called Free Sprinkling Overflowing and Sparkling , deconstructs the Kosmo to get it back to the primordial Kaos , when everything - including time and space originated from a fluent, vibrant, hyper-elliptical an dimensionless wave of pure energy.
Vortex in Kromoexplosion, embossed twists on a canvass that expand to infinity in Free Sprinkling Overflowing and Sparkling, when the artist in Kromotrance transforms each image in a Transcendental Vision.
From "Transcendental Eidetics of Art" by Massimo Paracchini